Weak Foreign Policy
Obama Foreign Policy Failures
Worst President Ever Obama
This Gary Varvel cartoon image is linked to the Gary Varvel cartoon image on media.townhall.com
Anti Obama Facts: Worst President Ever Obama
Failure 1: Obama bows to King of Saudi Arabia
Failure 2: Nuclear Weapons
Obama sought to reduce nuclear weapon stockpiles with Russia. Russia is not the problem. North Korea and Iran are the problems and both countries have increased their nuclear capability.
Faliure 3: Diplomacy
Obama sought direct diplomacy with Russia, Venezuala, Iran, and North Korea. For those countries, direct diplomacy is weakness and the US diplomacy has been rejected.
Failure 4: Outreach
Obama gave an outreach speech in Cairo at the beginning of his presidency. But now the US popularity in Egypt and mideast is at its lowest point in history. Saudi Arabia neither trusts our diplomacy and honesty. We can no longer be counted on for action.
Failure 5: Palestine State
Obama tried create a Palestinian state in two years by supporting the Palestinian position and forcing Israel to negotiate. He was not smart enough to know that what the Palestinians really want is the annihilation of Israel. Obama's initiative only made the Palestinian position intransigent. Now the Israeli-Palestinian peace process is completely busted.
Failure 6: Europe
Europe no longer knows what role America plays in the world and no longer "looks at us at the shining city on the hill." Obama returned to England a bust of Windton Churchill which was a symbol of old allies standing together. Obama treats our enemies better than our friends.
Failure 7: Canada
The Keystone Pipeline project would have created more American jobs and would allow the oil to come from Canada instead of Saudi Arabia. Obama killed it because he is worried about pollution? This was an insult to the Canadians. No one has ever accused Canada of being a polluting nation.  If any nation does it in an environmentally safe way it is the Canadians.
Failure 8: Mexico
The drug cartels, move freely in and out of the US because of Obama's unsecured border. He directed the department of justice to sell guns to known criminals. This caused at least 200 Mexican deaths, plus a US border guard.  He lifted the moratorium on drug laundering money, an action not even wanted by the Mexican president.
Failure 9: China
Obama has a policy of appeasement with China. The obvious result will be China's increased appetite for regional domination.
Obama is a failure. Obama is the worst president ever.
Obama is not smart enough to know that good foreign policy coordinates and compromises with our friends and takes strong positions against our enemies.
Obama's Mideast Foreign Policy Is Weak
A strong foreign policy encourages confidence in knowing where you stand and respect for your strength. It increases your popularity. But look what resulted from Obama's foreign policy in the Middle East. Favorable ratings of the United States have plummeted in the Middle East, according to a 2011 poll conducted by Zogby International for the Arab American Institute Foundation. In most countries surveyed, favorable attitudes toward the United States dropped to levels lower than they were during the last year of the Bush administration. In Egypt, for example, U.S. popularity was 30 percent in 2009 and has crashed in 2011 to 5 percent. No doubt the Obama team, in their naivity, is amazed, shocked, and incredulous that favorable views of the United States can possibly be lower under Obama's enlightened leadership than they were in the awful old days of George W. Bush.
The reason for all this is that Obama is incompetent. He has no foreign policy skills. His understanding comes from his Chicago politics background. The tactics he used might of worked in his Chicago neighborhood organizing but do not work in the Middle East. Apologizing for the US as he has done is understood as a sign of weakness, not a sign of strength. Our friends rely on our strength. Our enemies have contempt for our weakness.
Obama naively thinks that to promote western values he must promote democracy for those nations that have not had democracy and whose strongest internal organizational structure is centered around a sharia law Islam. It does not take much logic to realize that democracy in such situations will lead to an Islamic theocracy, which in essence means a Muslim dictatorship.
Look what has happened in the Arab Spring. Rulers have been forced from power in Tunisia, Egypt, Libya, and Yemen. By means of the democratic process in each of these countries, the Muslim brotherhood has become the major power player. The Muslim brotherhood has in no uncertain terms stated that they will lead each of the these countries to sharia law. Sharia law will institute a supreme religious leader who has the real power of a dictator and who can annul any law passed by a legislative body and who can annul any foreign policy advocated by a democratically elected president. Just look to Iran to see how it actually works.
Obama and Putin at G20 Meeting
The first principal of good foreign policy is that whichever foreign country leader the US president speaks with, the US has to be respected. If in some international meeting this does not happen, it means the US foreign policy is weak and the US president is weak. The recent meeting between Obama and Putin at the G20 Meeting is a case in point. This meeting was full of tension. One only has to look at Putin's body language in the photo of their meeting.
Putin and Obama at G20 Meeting June 19, 2012
It is clear from this photo, that Putin has no respect for Obama. Look how Putin is leaning away from Obama and his head is turned sideways to avoid looking at him directly. Indeed, there was little eye contact between them. Putin does not want to engage Obama. Obama is trying to shake hands with Putin. But Putin is not responding. This shows that Putin has contempt for Obama. We can only imagine the intensity of the lecture that Putin gave Obama. Putin spent considerable time pointing to the failed examples of political transition in Egypt and Libya as well as their concern that the US does not have a credible plan for what would happen to Syria's various battling factions and ethnic groups should Assad step down from power. Obama in his continued naivity about foreign policy pushes democracy in situations where it is clear that instead of a democratic transition taking place, a transition to an Islamic fundamental totalitarian government is taking place. Basically Putin was telling Obama, "You're a failure." And he is right. Pure and simple, Obama is a failure.
Such a disgrace for a US president has never happened before. Congratulations Obama for your miserable and ineffective foreign policy.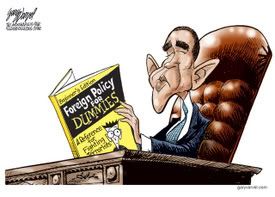 How can we take any other stand but to be Anti Obama
Stop Obama 2012
How Can We Trust Obama?
Defeat Obama Now